Too Faced Peaches & Cream Lot/collection
Submitted by

admin

on Thu, 12/23/2021 - 00:07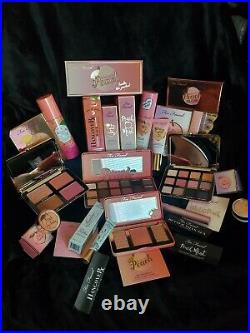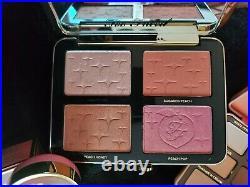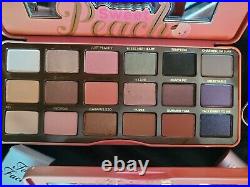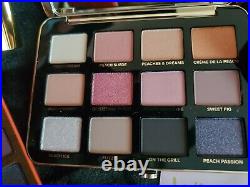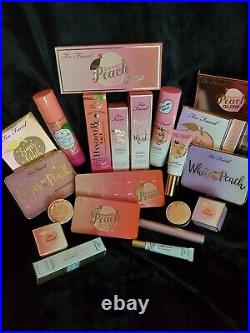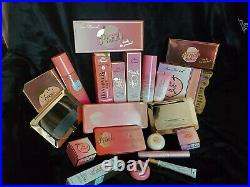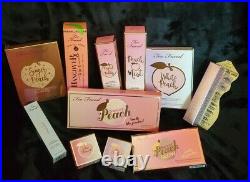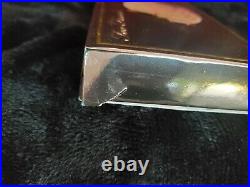 Yes, guys & dolls, a 11 piece lot of Peach paradise! From prep to set, this Curated Comfort Peach Collection is yours to be had!
Most items are Discontinued and those that are not, will most likely be gone as the year ends. You'll look as radiant as Rudolph's nose! Shimmering like tinsel hanging from a Christmas tree! The Too Faced Peaches and Cream Comfort Matte Collection is infused with refreshing peaches and sweet fig milk-ingredients known for their hydrating and antioxidant-rich benefits-to help keep skin moisturized, comfortable, and beautifully matte. Sweet Peach 18-pan Eyeshadow Palette.
The White Peach 12-pan Eyeshadow Palette. The Sugar Peach Wet and Dry Eye & Face Palette. Sweet Peach Glow Highlighting Palette. Hangover 3-1 Replenishing Primer & Setting Spray Infused with Peach Extract.
Primed & Peachy Cooling Matte Pore Perfecting Primer. Peach Mist Mattifying Setting Spray. Too Faced Sweet Peach Eyeshadow Palette is an 18-pan eye shadow palette featuring fresh-picked shades of peachy pinks, corals, bronzes, and pops of purple.
Infused with the juicy scent and skin-loving essence of peach, the rich, pigmented shadows offer true color payoff that gives you the ability to create limitless, timeless, and modern looks from day to night. Cruelty free & Paraben free. Charmed, I'm Sure--matte medium cool brown.
Candied Peach--matte coral with violet shimmer. Peaches'N Cream--matte milky peach. Talk Derby to Me--shimmering black violet. White Peach Nude Natural Pink Multi-Dimensional 12-pan Eye Shadow Palette.
White Peach was created with matte, shimmer and glitter shadows that add dimension and light to the rest of the Too Faced Peaches and Cream collection. Infused with refreshing peach and sweet fig milk, the palette features an assortment of sparkling peach, champagnes, soft pinks, and deep plum shades that smell and feel delicious-for a modern way to take your peaches and cream look to the next level. White Peach Nude Natural Eye Shadow Palette.
Peaches & Dreams--golden peach pearl. Crème de la Peach--soft coral with gold sparkle. Glistening Peach--rose gold with sparkle. Peach Ice--white shimmer with gold sparkle. On the Grill--matte charcoal grey. Peach Passion--deep orchid with blue and purple sparkle. 12 shades x 0.48 oz each. Sugar Peach Face & Eye Palette.
The four pearlescent powders can be used separately or mixed together for a customized color. Pearlescent powders deliver one-swipe payoff, seamless wear and treats your face and eyes to new levels of radiant. Palette features a soft and creamy pressed powder formula that can be used all over your face and eyes to create limitless looks-dry for a soft glow and wet for an intensified, luminous finish. That gives you a healthy glow with even more versatility. Peach Pearl : Pale beige with subtle, warm undertones and a metallic sheen.

Peach Honey: Light-medium, peachy brown with warm undertones and a metallic sheen. Sugared Peach: Medium orange-coral with flecks of gold sparkle over a matte finish. Peach Pop: Bright medium cotton candy pink with cooler, blue undertones, and warmer, golden shimmer/frosted sheen.
Can be mixed together for a customized color. Too Faced Sweet Peach Glow Peach Infused Highlighting Palette. This illuminating, blushing and bronzing palette provides the natural radiance of a glowing peach sunset and gives your skin the appearance of being bathed in the most beautiful peachy golden light. Infused with the skin-loving essence of peach, it also smells like peaches. Buildable powders blend effortlessly for an airbrushed effect and complements all skin tones.
The shades can be used separately or blended together for over soft glow. Highlighter, Blush & Bronzer shades. Mattifying facial primer cooling formula infused with sweet peach cream and fig milk that blurs the appearance of pores and fine lines and smooths skin while brightening your complexion and extending the wear of makeup. With 16-hour+longwear / 12-hour+shine control soft-focus finish is a lightweight, comfortable wear.
Full Size 40 ml /1.35 oz. Silicone based eye-shadow primer transforms any eyeshadow into a perfectly blendable, color-drenched, intensified version of itself, then locks it down perfectly'till you take it off. Skin soothing formula evens out the skin tone on your lids and smoothes out lines while it securing a barrier between the oils of your skin and your makeup. Eyebrow products stay on all day.
Contains Vitamin E and Silicone. Use this with any eye shadow you own to lock down your color. One application of the collagen-fueled formula and touch of our specially shaped brush will leave you wanting for more. One coat and lashes are full, defined and stretched to unbelievable lengths. Two coats and they're reaching unbelievable heights of drama. Three coats and you'll believe in magic. Film-forming Polymer for smudge-proof, all day wear. Acacia Senegal Tree Extract to nourish, thicken and lock curl in place. Unique Peptides for the deepest, intense black possible.
Sulfate free, paraben free, and cruelty free. Peach Mist Spray This silky mist that sets and refreshes make up with an oil controlling comfortable matte finish. Infused with real peaches, sweet fig milk, and an exclusive comfort matte technology, this revitalizing formula provides two optical effects: a matte finish for decreased shine and a soft-focus to blur imperfections with a few shimmering (non-matte) products to add glamorous dimension for day to night perfection. Features a comfortable, weightless feel. Offers up to 12 hours of shine control Lasts up to 16 hours.
Smells like peaches and sweet fig cream. Hangover 3-in-1 Replenishing Primer & Setting Spray Infused with Peach Extract.
The same benefits as the original Hangover 3-in-1 primer/setting Spray, this limited edition one has peaches and fig milk added and smells like peaches. You'll smell so good you're going to be craving Peach Cobbler ###127825; by the end of your day! Infused with peaches and cream fragrance, this rich and creamy lip scrub works to buff away dead skin cells and conditions your lips.
Parabens, Sulfates, Phthalates, Gluten & Cruelty-free which keeps all the fur babies happy and healthy as well as keeping Mother Earth/Nature cleaner and as our home, we need a neat place to enhance our beauty! Sweet Peach Highlighter Palette box has a small cosmetic tear in it, which does not impact the pallette inside. I know that this already super long, but if you read it all, most of the usual questions are answered. The items I list come from my personal collection. They come from my house.

They are my extra doubles (sometimes triples) and are 100000% original, authentic items. Packaging will be New to Near New to Near Mint because I'm a collector with a high bar set of what I collect, so when I pass them on to new homes, they're as close to getting them from the retailer as they can get.
(More on my Makeup snobbery below). Thanks for getting this far, I promise it's worth the read! Images of items pictured are EXACTLY what you will receive! Another reason for you to please read the entire description/instructions. Obviously, for health reasons, I would NEVER sell or misrepresent used cosmetics as'new.
Pristine palettes, blushes, highlighters, etc. Are what I have in my personal collection, or are duplicates (triplicates) and any I sell stand up to that level. Appearance and quality are brand new, and IF there is a flaw in the retail box/packaging it/they will be noted. Barely/lightly used is not new.
Sanitized and disinfected is not new. New is NEW: Untouched, pristine again, my personal grading/standards/expectations. The ONLY time it comes out of the retail packaging is to. Confirm it did not arrive damaged/broken.
To take the photos for the listing. A final photo prior to packaging the item(s). The information I post in my listings is not only for your protection, but for mine as well.
Now that we've gotten the adult business out. Paring down my collection, so my loss is your gain!
Get your hands on a Discontinued line that smells oh, so peachy with a amazing buttery smooth, good for your skin makeup formula that would make an amazing Christmas gift, for that special someone, or treat yourself, all without breaking the bank. Any flaws may come from the flash and/or the protective plastic sheet over eyeshadow, blush, or other breakable/fragile/sensitive items, and do not appear on the item. Dulling or flatness may occur due to the thickness of protective plastic over the colors in the palette. Again, all flaws if present, will be noted in the description. I didn't think that I'd have to state the obvious, but...
If YOU'RE NOT SURE how shades will look on you, if possible, SWATCH on yourself at a retailer near you. You run the risk of possibly being blocked from using the service. Finding better prices is not a reason to cancel. A lot of work goes into listing items, and if you're.
NOT SURE about a item, JUST REACH OUT AND ASK ME ###128578. I'll be more than happy to post extra photos or answer any questions. Let's please be responsible adults and conduct a VERY FAIR trading system. Most times I'm taking a "loss" in passing on new unused items, because re-homing is great for both your pocket and mine. So, if you could please help a lass out, I'd appreciate it.
###129392; Thanks for understanding ###129392. Any flaws may come from the flash and all flaws if present, will be noted in the description. On to the business stuff.
As we head deeper into Fall & Winter, weather situations across much of the country could/may cause delays to both domestic dispatches. PLEASE MAKE SURE THAT ALL INFO, INCLUDING APARTMENT NUMBERS ARE PROVIDED FOR! I pack items as if I were getting them myself.. All I require of you is that you NOTIFY me of your intentions. Sadly, my crystal ball doesn't always work.
Thanks for looking, have fun and GOOD. The item "Too Faced Peaches & Cream Lot/Collection" is in sale since Friday, December 17, 2021. This item is in the category "Health & Beauty\Makeup\Makeup Sets & Kits". The seller is "bad_girll" and is located in Finley, California.

This item can be shipped to United States.
Number of Items in Set: 11
Skin Type: All
Size: Standard
Bundle Description: Eyes, Face, Lips, Setting, Primer
Color: Multicolor
Custom Bundle: Yes
Set Includes: Blush
Coverage: Buildable
Flavor: Peach
Brand: Too Faced
Department: Women
Formulation: Balm
Effect: Brightening
Features: Animal Cruelty-Free
Scent: Peach
Makeup Shade: Assorted
Product Line: Too Faced Peaches and Cream