Lobby Cards Collection Group Of 54 Fantastic All Mint/near Mint 1930's-60's
Submitted by

admin

on Mon, 09/18/2023 - 12:16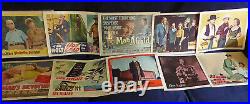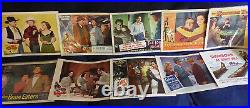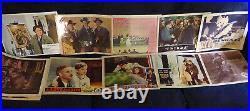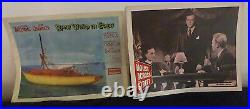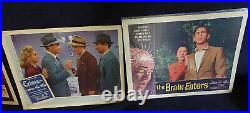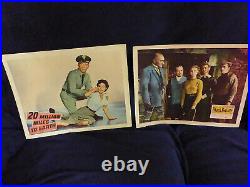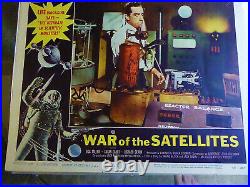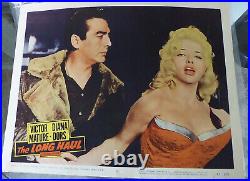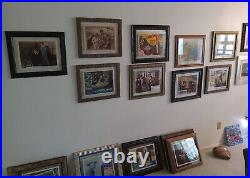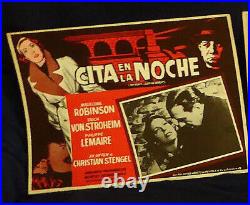 All cards are truly great, with crisp details and great color... None are faded at all.....
Pictures do not do these justice. Nearly all are in removable protective plasticine covers.
The photos of the framed lobby cards are not part of this sale... They are my personal collection. Just wanted to show that I take collecting lobby cards seriously. I was planning to frame them all but it became quite expensive and I ran out of wall space. I took a few close ups to show you the condition. Video is better than pics but still not near as nice as they are in person.
Each is mint or near mint. There is a tiny tiny 1/4 inch stain in the margin of one of them and a tiny tiny crease in the margin of one of them.

And one of them has a minuscule piece missing from the bottom right hand corner, no bigger than a tip of a pencil eraser. 1 Middle of the Night (Kim Novak, Frederic March).

2 Benny Goodman Story (Steve Alle, Donna Reed). 3 Man of Conquest (Richard Dix, Joan Fontaine). 4 In Love with Life (Dickie Moore). 5 Harold and Maude (Bud Cort, Ruth Gordon).
9 Bengazi (Richard Conte, Mala Powers). 10 Saint Joan Gielgud, R. There are 2 different cards from this set.
12 Texas Dynamo (Charles Starrett). 13 Danger Zone (Hugh Beaumont). 14 Spoilers of the Plains (Roy Rogers).
15 Swing Your Partner (Dale Evans). 16 Outside the 3 Mile Limit (Jack Holt). 17 Rawhide Years (Tony Curtis, Arthur Kennedy). 18 Sword of Ali Baba. There are 2 from this set.
One is the title card. 19 Lady, Let's Dance (Belita, Frick and Frack).
20 Birdy (Mathew Modine, Nicolas Cage). 21 Raw Wind in Eden (Esther Williams, Jeff Chandler).
22 House ACross the Street. I have 2 different cards from this set. 23 Elephant Man (Anthony Hopkins, John Hurt). 24 The Long Haul (Victor Mature, Diana Dors). 25 War of the Satellites (Directed by Richard Corman). 26 Man Afraid (Phyllis Thaxter). 27 Voodoo Island (Boris Karloff). 28 Kid Nightingale (John Payne, Jane Wyman). 29 I'll be Seeing You (Shirley Temple, Ginger Rogers, Joseph Cotton). 30 Midnight Cowboy (Jon Voight, Dustin Hoffman). I believe this is the title card. 31 Hot Lead (Tim Holt).
32 A Woman's Devotion (Ralph Meeker, Paul Henreid). 33 High Flight (Ray Milland). 35 Durango Valley Rangers (Bob Steele).
37 The Long Night (Henry Fonda, Vincent Price, Ann Dvorak). 38 The Return of Dracula (Francis Lederer, Norma Eberhardt).
39 Flesh and the Spur (John Agar, Marla English). 40 The Hoodlum (Lawrence Tierney).
41 High Terrace (Dale Robertson). 42 Showdown at Boot Hill (Charles Bronson, John Carradine). 44 20 Million Miles to Earth.
45 Black Beauty (Mona Freeman). 46 The Time Travelers (Philip Carey, Merry Anders). 47 The Tender Trap (Frank Sinatra, Debbie Reynolds).
48 Man in the Shadow (Orson Welles, Jeff Chandler). 49 Dangerous Journey (Narrated by Conrad Nagel) 1944. 50 Beyond the Forest (Bette Davis, Joseph Cotton, Directed by King Vidor). 51 Voyage to the end of the Universe. And 54 There are 2 Mexican lobby cards as pictured.
(First Man in Space, Night in The City).