So Rare! All Docs! Franklin Mint Jane's Medallic 100 Of World's Great Aircraft
Submitted by

admin

on Thu, 04/15/2021 - 19:42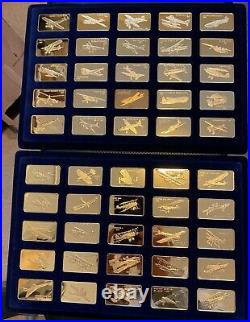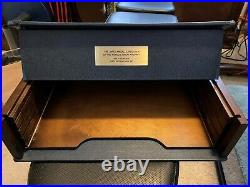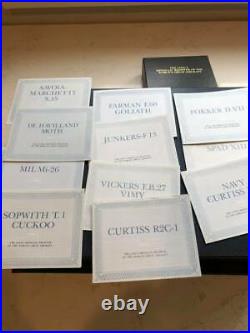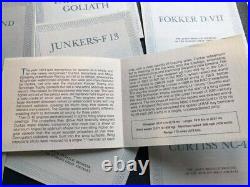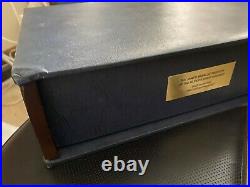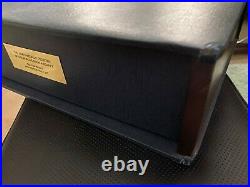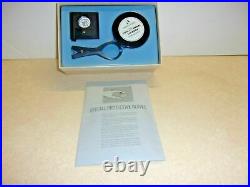 Franklin Mint Jane's Medallic Register of the World's Great Aircraft First Edition Set 24K Carat Gold Plated Bronze. An extremely rare set from The Franklin Mint called: The Jane's Medallic Register of the World's Great Aircraft.
This set is the First Edition Proof Set 24 carat Gold Plated on Bronze Four fitted lined trays house all 100 ingots. Each tray holds 25 ingots.
Each medal measures approximately 2 x1 x 3/16 (4,8 cm x 2,8 cm) and weighs 1. 8 oz (51 grams) The ingots are minted with a full Proof finish in 24 carat gold electroplate on solid bronze. Each ingot is dedicated to an aircraft that had a significant impact upon the history of aviation A short list of included ingot (too many to name) : 1903 USA Wright Flyer 1907 France Voisin Biplane 1909 France Santos-Dumont Demoiselle 1909 France Bleriot XI 1911 USA Curtiss d Hydro-Aeroplane 1913 France Deperdussin Monocoque Racer 1913 Russia Sikorsky Grand 1914 Great Britain Vickers F. 5 GUN BUS and many more.

Includes original perfect condition information pamphlets for all 100 aircraft in this collection. Includes original Franklin Mint Collector Kit. Inside shows slight evidence of a separation (see photo).

The lid fits well and closes with ease, but was slightly damage in the left and right front corners (see photo). I will very carefully pack each shelf of ingots for protection and the ingot display itself, separately, to avoid any additional damage. Here is the list of the ingots. 1911 USA Curtiss d Hydro-Aeroplane. 1913 France Deperdussin Monocoque Racer.
1914 Great Britain Vickers F. 1915 Italy Caproni Ca 32. 1916 USA Curtiss JN-4 JENNY.
1916 Great Britain Sopwith F. 1917 Great Britain Sopwith T. 1917 Great Britain Airco D.
1918 Great Britain Avro 504K. 1919 USA Navy Curtiss NC-4. 1919 Great Britain De Havilland Moth. 1919 Great Britain Vickers Vimy. 1924 Italy Savoia- Marchetti S.
1926 USA Ford 4-AT Trimotor. 1927 Great Britain Supermarine S. 1927 USA Ryan NYP Spirit of St. 1928 Great Britain Hawker Hart.
1929 Germany Dornier DO X. 1930 Great Britain Handley Page H. 1933 USA Boeing Model 247. 1935 France Mignet POU DU CIEL. 1935 Great Britain Vickers F. 1935 Great Britain Hawker Hurricane MK 1. 1935 Great Britain Vickers Wellesley. 1936 Great Britain Short S.
1938 USA Piper J3 CUB. 1938 USA Boeing Model 307 Stratoliner. 1938 Germany Junkers JU 87B-1.
1939 Germany Messerschmitt Bf 109E-1. 1939 Germany Heinkel He 178. 1941 Great Britain De Havilland Mosquito Mk IV. 1941 Great Britain Avro Lancaster Mk I. 1941 USSR Ilyushin I1-2 Shturmovik.
1941 Great Britain Supermarine Spitfire Mk VB. 1943 Japan Mitsubishi A6M5 ZERO-SEN. 1943 USA Boeing B-17G Flying Fortress.
1943 USA Boeing B-29 Superfortress. 1944 Germany Messerschmitt ME 262A-1a Schwalbe. 1944 Germany Messersschmitt ME 163B-1 KOMET. 1944 USA North American P-51D MUSTANG. 1945 USA Fairchild C-82A PACKET. 1947 De Havilland CANADA DHC-2 Beaver. 1950 Great Britain Vickers Armstrongs Viscount 700. 1953 USA Bell Model 47G. 1954 Great Britain Hunting Percival Jet Provost T. 1955 France SUD-EST Aviation S. 1956 France Dassault Mirage III. 1956 USA Cessna Model 172.
1957 USA Boeing Model 707-120. 1958 USA Boeing B-52G Stratofortress.
1958 Great Britain De Havilland D. 1958 Netherlands Fokker F27 Friendship. 1958 USA De Havilland D. 1959 USA North American X-15A. 1959 USA Piper PA-25 PAWNEE.
1959 USA Sikorsky S-60 Skycrane. 1960 Great Britain Hawker P. 1964 USA General Dynamics F-111. 1965 USA Lockheed SR-71A Blackbird. 1965 USA Bell AH-1G Hueycobra.
1968 USA Lockheed C-5A GALAXY. 1969 France/Great Britain Aerospatiale/BAC Concorde. 1969 USA Boeing Model 747. 1970 USA Grumman F-14A Tomcat. 1972 USA Mcdonnell Douglas F-15A Eagle.
1973 International Europe AIRBUS A300B2. 1976 USA General Dynamics F-16A Fighting Falcon. 1977 USA Boeing E-3A Sentry. 1977 Sweden SAAB JA37 Viggen. Franklin Mint Jane's Medallic 100 of World's Great Aircraft" is in sale since Friday, April 2, 2021. This item is in the category "Collectibles\Decorative Collectibles\Decorative Collectible Brands\Franklin Mint\Other Franklin Mint". The seller is "i1i4147" and is located in Bothell, Washington.
This item can be shipped to United States.