2008 Authenticated Ink Baseball Penny Card Monster Collection (294) 1867- 2005
Submitted by

admin

on Sat, 01/21/2023 - 20:50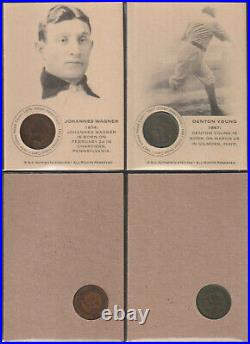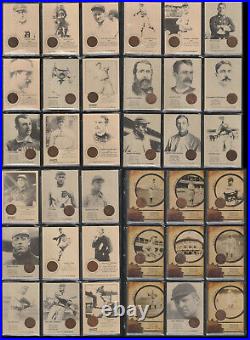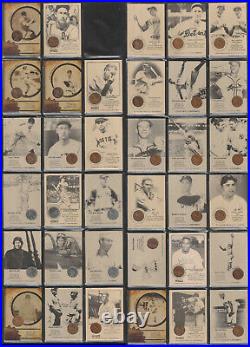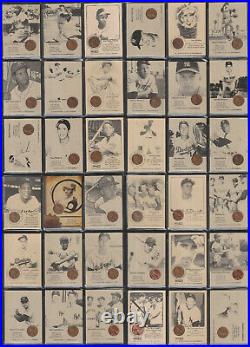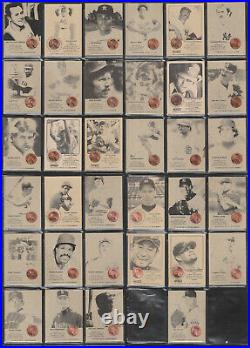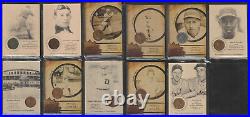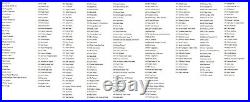 I understand that there is a lot to read here, but for rare and unique items, it benefits you as well as me to read carefully. Back in 2008, Authenticated Ink, a company that even today not a lot is known about, brought a new concept to the trading card market - pairing US one cent coins with the birth years of important players in the history of baseball, or the years of events they took part in. Perhaps one of the principals in the company was looking one day at the 1957 Topps'Lucky Penny' pack insert card and a light bulb went on. No one knows, but the concept was expanded to other sports and these interesting cards soon caught on with collectors.

They remain popular with collectors today, in spite of the company no longer being in business, it seems. When it went out of business I can't answer. I'm guessing that reality quickly caught up with them.
The work in not only securing the coins - which for a while expanded to nickels and I may have even seen a dime or a quarter (or maybe that was a Topps product,'borrowing' the idea) - but hand-inserting them into each card, probably stopped being worth the cost of time and expense. There are an incredible 294 pieces in this monster collection, and all but one, a 1911 penny for Yankees' legendary skipper Miller Huggins of which there are two, are different. In addition to all 294 cards being shown, I have provided a full list of the cards. The scope of the collection is amazing, beginning in 1867 with the birth of Cy Young and ending with a card and coin for Matt Cain of the San Francisco Giants for 2005, his rookie season. In between, a strong attempt is made to tell the history of the game, though in retrospect more could have been done - many of the cards just give the player's name with no other information.
There are 29 that have an Indian Head cent, thru 1908. These include birth year coins for some of the all-time greats like Young, Wagner, Cobb and Ruth, and cards of the game's pioneers. The Lincoln'wheat' cents that span the years 1909 to 1958 are the bulk of the collection, totaling 206, with just the one duplicate. There are multiples of Ruth, Gehrig, Cobb, DiMaggio, Williams, Musial, Mantle, Mays, Clemente and more, and all bear different images on the cards (though coins of the same year may appear with some).
There are also several very interesting subsets: Six of the'Eight Men Out' from the 1919 Black Sox scandal have cards here - only Happy Felsch and Fred McMullin do not, plus there are a couple of the White Sox as a team, and even one of fixer and former player Hal Chase. There are multiples of Joe Jackson besides the one that fits this group. All five of the 1936 Inaugural HOF Induction Class have a card.
A substantial grouping of players from the Negro Leagues, with several of Josh Gibson. A small group of greats who gave up chunks of their prime years to serve in WW II, all with 1943'steel' cents. Team sets can be made if one wanted to do that. The break-up value is phenomenal. I would venture that a sizable number of pieces in this collection have not been seen in years and may not be seen again.

Like Jimmy Claxton, the first black man to appear on a baseball card (1916 Zeenuts), with a 1916 cent. Or Jesse'Doc' Tally of the famous, bearded House of David barnstormers of the'20s and'30s. Then we get into a smaller group of modern players, with (59) Lincoln Memorial cents from 1959 to 2005. Because it is a smaller group, there are some names missing that you might expect to see. Reggie Jackson and Griffey Jr are two big ones.
However, the group is largely 1960s to 1980s with many of the biggies. In fact, just 10 are from 1990 and later, but they include Jeter, Rivera, Ichiro, Pujols, and there's even a Michael Jordan. The coins are an important part of the concept, but not all collectors will pay much of a premium for the coins.

While there wouldn't be much of a premium beyond the going price of a dime to a dollar apiece for most of the 1940s-'50s wheaties (until you get to the Memorial cents which are all uncirculated and most are BU), the early Lincolns up to 1933, and all Indian Head, have gained in value. The 1926 Lincoln with Paul Waner, in particular, is in lower Mint State condition with a touch of original color.

I can say that only the 1874 cent with Wagner appears to grade lower than Good 4, it looks AG 3 to me. The Indians grade from G to Fine. The Lincolns up to 1913 grade from G to Fine. I stopped after that, but didn't see any dogs. The card backs are blank. Condition of the cards is overwhelmingly NMT-MT. The card stock is very thick and the backs are blank, and there are color variations. There are two basic types, the black and white image fronts, which have tan-colored backs, and the sepia background with a B&W image inside a circle, which have gray backs. Some may appear to have wrinkles on the backs, but I believe that's because of the type and thickness of the paperboard (approximately 60-point thickness) and not because of any bending/creasing.
Mentioned for the sake of accuracy. Again, this is probably the biggest single collection of these that you are ever going to see. I really don't want to sell off individual items and then have to keep re-editing this listing to reflect their deletion, but if you make me an offer I can't refuse... I will not respond to lowballers. Some of these, and I believe more than just some, there may be less than ten examples in existence. That is quite a ways up there on the rarity scale. This item is in the category "Sports Mem, Cards & Fan Shop\Sports Trading Cards\Trading Card Singles".
The seller is "puckfan55" and is located in this country: US. This item can be shipped to United States.
Set: 2008 Authenticated Ink
Card Thickness: 59 Pt. - approximate
Country/Region of Manufacture: United States
Card Size: Standard
Custom Bundle: Yes
Season: 1800s to 2000s
Material: Thick cardstock, Card Stock
Card Condition: Near Mint or Better
Graded: No
Player/Athlete: Babe Ruth, Ty Cobb, Mickey Mantle, Many More
Type: Sports Trading Card
Features: Coins inserted into cards
Vintage: No
Year Manufactured: 2008
Manufacturer: Authenticated Ink
Sport: Baseball
Language: English
Original/Licensed Reprint: Original
Team: All teams
League: MLB, Negro Leagues, Minors
Bundle Description: 294 coin/cards total, 293 different. Coins range from 1867 to 2005.