Huge 100s Railroad Lot Books 300 150+ All Color Prr Nyc Up Steam Trackside Rare
Submitted by

admin

on Tue, 09/01/2020 - 15:12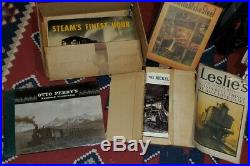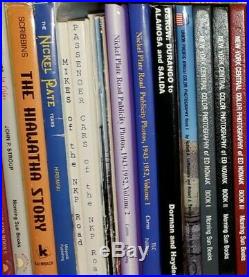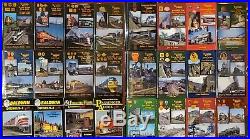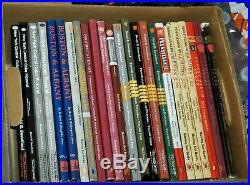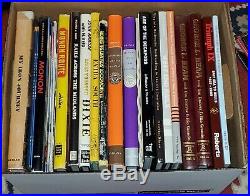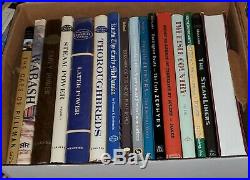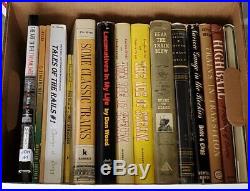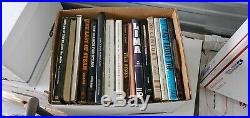 Only a portion of this collection is listed here. Will update as week goes on.
Sacrifice, over 10K invested, must sell. Many out of print, some rare. FULL run of Classic Trains magazine from the Premier Issue 1999 through the end of 2014 plus extras. Still in the original Kalmbach packaging 1960s era + Steam's Finest Hour by David Morgan + Nickel Plate Story by John Rohrer. 6 special edition landscape format Kalmbach soft books - Passenger Trains Chicago volumes 1 and 2, NYC in the mohawk Valley, F units, E units and GMs Geeps.
Versize books + Southern Pacific steam Locomotives by Donald Duke at al, + Otto Perry Railroad Pilgrimage. Periodicals - Early copies of National Geographic, LIFE, Leslie's, True and Saga with rare old train stories or covers, multiple older 12-month calendars including many by Ted Rose, O Winston Link, Howard Fogg, and other artists. Assorted issues of Vintage Rails, 6 copies of locomotive quarterly etc. Now to the hardbounds, about 1/3 or more are full color, I specialized in getting these.
BOX 4 - 25 different Morning Sun books lot all Trackside series - Purin & Knouff all 5 volumes - South, West, Heartland, Northeast, Mid Atlantic States. + Louisville with Jack Fravert V1 & 2. + Jim Boyd Baldwin diesels V1 & 2, Fairbanks Morse Diesels, Passenger Alcos and Trackside in the Granger Country, + B & O Steam with Willis McCabe, Appalachia with Eugene Huddleston, East of the Hudson with William McChesney, PRR North of Washington DC and Virginia with Wayne T Sherman, Search for Steam in Virginia and West Virginia with August Thieme, Pennsylvania Railroad with John Dbiosko, Trackside Chicago George Spier. BOX 5 - Morning Sun and Four Ways West all color - MSB includes + SOU Southern Railway V1,2,3, + CB&Q Burlington V1, + CNW Chicago & Northwestern V1, + UPRR Union Pacific Steam, + Lloyd Stanger ATSF Santa Fe V1,2,3,4 + GM&O Gulf Mobile and Ohio V1,2 + N&W Norfolk & Western V1 + GTW Grand Trunk Western V1,2 + WAB Wabash volume 1 + MILW Milwaukee Road V1, 2. FWW includes + GM&O Color Pictorial + C&O Chesapeake & Ohio color pictorial + Burlington Route Color Pictorial V1, T&NO Texas And New Orlean Color pictorial, + Central Illinois Rails Color pictorial V2. Also Heimberger House Illinois Central, Old Line Graphics Clinchfield Country. BOX 6 MSB and FWW all color. Morning Sun Books include + Rio Grande V1,2,3, Rio Grande Pass/Frt Color Guide, DRGW Trackside JIm Sandrin, + Four Ways West Denver Rio Grande Western color pictorial + Milwaukee Road Through Passenger Service by Stout + A Golden Decade of Trains Robert Malinowsky + Rock Island Color by Stagner + Southern Pacific in Color by Sweetland + Northern Pacific V1 Volume 1 Erie Color, Lehigh Valley Color, Lackawanna Color, V2 Jersey Central, Virginian Color V1, + Lionel Inspiration + Reading Steam V1, Reading Company V1, 2, + Robert Yohansey Tidewater Triangle + Jim Boyd Outbound Trains. Rails Around Indiana by Kelly & Cristler 2020 publication + Magnetic North Canada steam pictorial. Will likely need to be picked up in east Tennessee using a tag along trailer or larger vehicle - 13 bankers boxes, 4 smaller boxes of books. No skimming; it's all got to go.
Just a brief sample look shows these examples. PRR - all 5 Four Ways West color volumes, all 3 Morning Sun Steam books, assorted Trackside, Facility and Diesel Morning Sun volumes, Pennsy Power I, II, III by Staufer; Hastings on Pennsy, the NJI K4, Q2, Broadway Ltd and other quality softbounds, Triumph IX Delmarva region, PRHTS publications such as Prophet's Pennsy and PRR in Cincinatti, etc.
NYC - all 4 Four Ways West volumes, all Steam and Lightning Stripes Diesel by Morning Sun, all 3 Nowak color volumes, assorted Trackside and Equipment books, 2 volume color Boston and Albany, Cavanuagh Not Forgotten, all Stauffer Power books, recent Know Thy Mohawks by NYC Historical, 20th Century by Beebe. Rio Grande - 5 volumes by Morning Sun, 1 by Four Ways, I by TLC, Otto Perry Pilgrimage, Perry Master Photog book, 2 vols on George L Beam, several other narrow guage hardbounds. Santa Fe - Vol 1-4 Morning Sun by Stagner, Warbonnets color book, all hardbound.
Nickel Plate - 4 volumes Morning Sun, TLC NKP Berkshires book, both TLC volumes by Corns of corporate photos, 1960s still-boxed NKP Story by Roher, many NKP historical newsletters 1960s-70s including 3 color issues, Mike book, pass car book, diesel book, Hirsimaki NKP book, more. Monon - Both Morning Sun books, Dozall and Hilton books with extra magazine clippings, assorted mag stories. And on and on - MILW, WAB, UP, GM&O, B&O, C&O, SOU, RI, CB&Q, RDG, IC, N&W, CRR. I will update as time allows or until it sells; work precludes getting it all done at once. Thanks again for your interest; this truly is a once-in-a-lifetime opportunity. The item "HUGE 100s RAILROAD lot books 300 150+ All Color PRR NYC UP Steam Trackside RARE" is in sale since Monday, August 31, 2020. This item is in the category "Collectibles\Transportation\Railroadiana & Trains\Paper\Books\1900-Now". The seller is "quarter-milestones" and is located in Elizabethton, Tennessee. This item can be shipped to United States.